Tide Professional® laundry system
Fabric care. Redefined.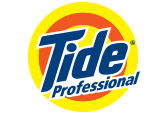 The Tide® Professional Laundry System: Fabric Care. Redefined.
Keep Fabrics More Like New - Even After 30 Cycles
The laundry solutions from Tide Professional give you the freedom to choose a powerful, cost-efficient system that matches your needs. With a focus on linens that stay stronger and whiter for longer, you can be confident you're getting the most for your money. Take our quiz to help you choose the right system for you. 
---
Tide Professional Everyday

The near pH neutral formula helps protect fabric strength for longer lasting linens. Optimize your fabric care system for savings of up to $1,400

Tide Professional Advanced

You can realize a reduction in linen replacement costs of up to 15%. Optimize your fabric care system by switching to the Tide Advanced System for savings of up to $2,600.

Tide Coldwater

Turn your laundry system into a money saving machine. You can experience bottom-line savings of up to $8,700 with the system formulated for a dependable clean with less water and colder temperatures.
---
Be the First to Hear About New Products and Offers!
©2022 P&G. All Rights Reserved.
For additional information call 1-800-332-7787
Call center hours 24/7, 365 days a year
Your digital warehouse for images, documents, videos, training and other PGPro resources. Get started
AdChoices