Clean + disinfect* in one step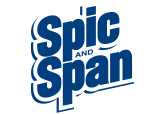 Simplify cleaning without sacrificing results.
Sometimes cleaning only does half the job. To clean and disinfect in a single step you need a product designed to power through tough messes and kill germs*. See how Spic & Span can help save you time and labor.
<sup>*When product used per label instructions. Effective against Klebsiella Pneumoniae and Influenza A</sup>
Be the First to Hear About New Products and Offers!
©2022 P&G. All Rights Reserved.
For additional information call 1-800-332-7787
Call center hours 24/7, 365 days a year
Your digital warehouse for images, documents, videos, training and other PGPro resources. Get started
AdChoices