Eliminate odors at the source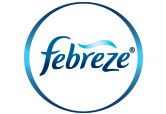 Eliminate Odor At the Source
Avoid cover-ups that only mask the problem. With Febreze® odor eliminators, unpleasant smells are gone for good. Using patented technology, Febreze Air Effects and Febreze Fabric Refreshers lock onto odors and eliminate them, so all your customers smell is clean.
Febreze Professional Sanitizing Fabric Refresher has the proprietary technology that eliminates smells in your soft surfaces, while killing 99% of bacteria while preventing growth of mold and mildew.
---
Find the Febreze that's right for you
Be the First to Hear About New Products and Offers!
©2022 P&G. All Rights Reserved.
For additional information call 1-800-332-7787
Call center hours 24/7, 365 days a year
Your digital warehouse for images, documents, videos, training and other PGPro resources. Get started
AdChoices